Beginner Program for Adults
WHAT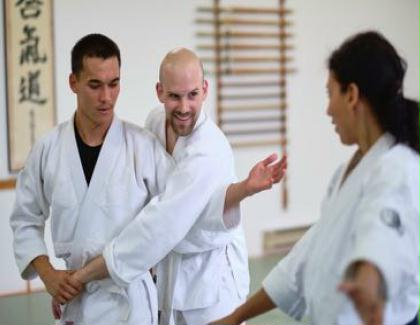 The Beginner Program for Adults introduces new practitioners to the basic concepts and techniques of Aikido.

FOR WHO
The Program is specifically tailored for adults who have no previous experience and are interested in trying out Aikido.

FOCUS
With an emphasis on safety, beginners learn the fundamentals of Aikido practice including etiquette, footwork, body movement, posture, positioning, basic techniques and falling safely, all under the supervision of senior instructors.

BENEFITS
Among many other benefits, Aikido practice improves health, increases flexibility, sharpens reflexes, enhances coordination, improves body alignment and promotes relaxation. And of course it's a fun and excellent way to learn self-defense and the most modern of Japanese martial arts.

WHEN
The Program starts on the first Monday of the month and runs for 3 months.
Beginners can attend an unlimited number of Aikido, Jo (wooden staff) and Bokken (wooden sword) classes on the schedule, as follows:
MONDAY
TUESDAY
WEDNESDAY
THURSDAY
FRIDAY
SATURDAY
SUNDAY
BOKKEN
10:45-12:00
AIKIDO
12:15-1:15
AIKIDO
11:30-12:30
JO
6:30-7:20
AIKIDO
6:30-7:20
AIKIDO
6:00-7:00
AIKIDO
7:00-8:15
AIKIDO
7:30-8:30
AIKIDO
7:00-8:15
AIKIDO
7:30-8:30
PROMOTIONAL SPECIAL
● 3 months of unlimited classes
● Free uniform
● Examination for 6
th
kyu
● All for $199 – you save 60%!
Contact us
to find out more.
© Toronto Aikikai - 58 Ritchie Avenue, Toronto, ON, M6R 2J9, (416) 531-8273, info@torontoaikikai.com