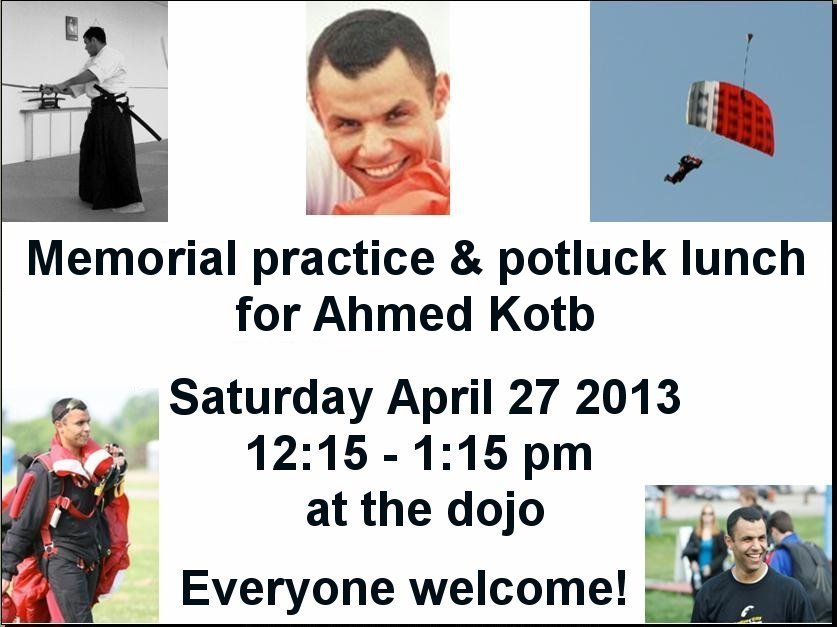 On Saturday April 27 2013 starting at 12:15 pm, Toronto Aikikai will be having a memorial practice at the dojo to commemorate the fifth anniversary of Ahmed's passing and to celebrate his life. The class is open to all levels and it will be followed, starting at about 1:30 pm, by a pot-luck lunch, so bring some fun and interesting food.
After lunch, some of us will go to Ahmed's tree, located at the Budapest Park on Lakeshore Boulevard and Parkside Drive, near the swimming pool. To get there from the dojo, drive south down Roncesvalles, turn right at The Queensway and continue to Colborne Lodge Rd, or drive south down Parkside Drive and turn right onto Lakeshore Blvd to Colborne Lodge Rd. Drive south on Colborne Lodge Rd and turn Left at Lakeshore Blvd, heading east. The Park is on the right.

Thanks and hope to see you then.
R. Zimmermann Shihan
Chief Instructor
Toronto Aikikai