Instructors
Here are some brief bios and insights into our instructors. We believe however that it's a lot more fun to get to know them the old fashioned way.
Chief Instructor
Robert Zimmermann Shihan, 7th dan in Aikido, 1st dan in Iaido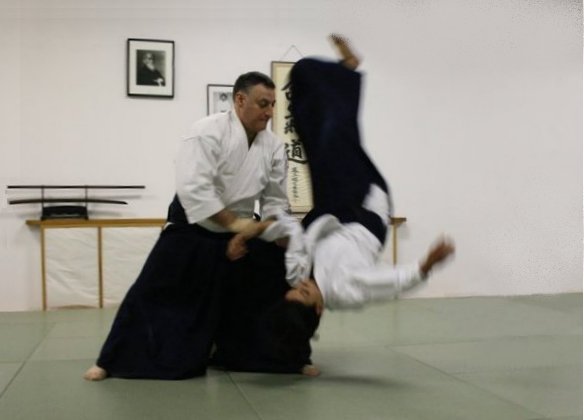 Robert is the Chief Instructor of Toronto Aikikai. He holds the rank of Nanadan (7th degree black belt) and the title of Shihan (Master Instructor) in Aikido and the rank of Shodan (1st degree black belt) in Iaido. He has studied mainly under the direction of Mitsunari Kanai Shihan, 8th dan, Chief Instructor of New England Aikikai until his passing in 2004, with Yoshimitsu Yamada Shihan, 8th dan, Chief Instructor of New York Aikikai, both direct disciples of O-Sensei, Morihei Ueshiba, and in the 1990's with Yukio Kawahara Shihan, 8th dan, Technical Director of the Canadian Aikido Federation.
Robert began practicing Aikido in 1967, and has trained and/or taught at seminars and training camps in Canada, the United States, Japan, Mexico, Central and South America, Israel and Europe. He is a former member of the Technical Committee of the United States Aikido Federation and a former member of the Board of Directors of the United States Aikido Federation and of the Canadian and the Ontario Aikido Federations. His first instructor was Mr. Manuel Cela of the Fujiyama Dojo in Uruguay. After moving to Canada in 1974, his main instructor was Mr. Bruce Stiles, founder of Toronto Aikikai and a senior student of Mitsunari Kanai Shihan. Robert became Chief Instructor of Toronto Aikikai in 1983.
"I am extremely thankful and indebted to all my teachers over the years. They all conveyed many deep and valuable lessons. Two of the many things Kanai Sensei taught me were patience and a keen eye for detail. In spite of my many shortcomings he was always extremely patient with me, showing me by example and always answering all my questions, no matter how trivial. I truly miss our conversations. He also taught me about clarity, about how to see, understand, dissect, deconstruct, reconstruct and explain technical details to myself and others, to discern what is not shown and most importantly, how to search for the underlying principles from which techniques derive. He taught me that the learning process involves sustained effort coupled with clear understanding and pleasurable practice, and that eventually, the day will arrive when one can embody and manifest these principles in one's daily practice and, by extension, also in daily life. I find myself re-learning these lessons on a regular basis, as I try to apply these concepts and convey these teachings to my students."

Assistant Instructors
Yelitza Cuevas, 4th dan in Aikido, 3rd dan in Iaido
Yelitza began her Aikido practice in Venezuela in January 2000. Three months later she had the opportunity to travel to Canada for 8 months where she trained under Robert Zimmermann Sensei at Toronto Aikikai. She returned briefly to Venezuela where she continued training with Nelson Requena Sensei and in November 2002 moved permanently to Toronto and has been practicing Aikido and Iaido at Toronto Aikikai since then. Over the years, Yelitza's practice has been strongly influenced and shaped by her main teacher Robert Zimmermann Shihan, and also by M. Kanai Shihan, Y. Yamada Shihan, and C. Berthiaume Shihan. One of the things that initially attracted her to Aikido was the beauty and roundness of its movements. She always admired martial arts but it was in Aikido that she found elements of strength, beauty, harmony, and non-competitiveness. She loved Aikido from day one, has practiced it uninterruptedly and it has become a lifestyle more than a hobby for her. Robert Zimmermann Sensei once told her "train hard in your good times and create the habit so you can continue in your bad times". Yelitza has found this to be very true and always keeps it in mind. "Aikido has changed my life in many ways. While the reasons why I started practicing are not the same as why I practice today, I have found that Aikido and Iaido are the best tools I have to get to know and work on myself. It's true they are beautiful martial arts, but more importantly, they offer me the opportunity to be more in touch with my body and mind and to experience how different emotional states affect me and my movements." Yelitza trains regularly and attends seminars in Canada, the US, and other countries. "Aikido and Iaido have proven to be key for keeping balance in my life, increasing my productivity at work, helping me stay healthy and making friends all over the world."
Eric Lavigne, 4th dan in Aikido, 4th dan in Iaido
Eric stumbled upon Aikido in 2000, when he enrolled in an introductory course offered by University of Montreal. A few months later, he joined Aikido de la Montagne, practicing under the supervision of Claude Berthiaume Shihan. What was first curiosity became enjoyment, struggle, then passion. After fourteen years of practice, life brought him to Toronto, where he joined Toronto Aikikai and started practicing under the supervision of Robert Zimmermann Shihan. Eric's Iaido practice started a year after he began practicing Aikido. Although each art stands on its own, he found a powerful synergy in their combined practice, as Aikido required working with a partner, while Iaido allowed for individual focus. Oscillating between the two, he found important lessons on movement and the transfer of power. "I enjoy both working with partner and on my own; they bring different kinds of struggles and different kinds of discoveries. I feel very lucky to be studying under such great masters as Berthiaume Shihan and Zimmermann Shihan. It's hard to imagine where I'd be or who I'd be without Aikido and Iaido. What first drew me to Aikido was its non-competitiveness and its focus on respect for one's partner. For Iaido, it was the serene yet intense practice and the beauty of the body-sword movements. Behind each is a touching simplicity that remains defiantly complex. Over the years, I've come to appreciate their paucity of rank insignia, and their emphasis on respectful and humble practice. Meeting my limits is challenging. Yet overcoming them through patience and hard work has brought so much pleasure that I now feel genuinely happy when nothing seems to work, as it offers me new opportunities for discovery."
Alireza Faed, 3rd dan in Aikido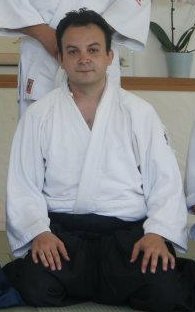 Alireza started practicing martial arts when he was a high school student in Tehran, taking up Karate for seven years. In 1998 he found Aikido and became one of the early students of Ahmad Ali Aghsaghloo Sensei, an Aikido pioneer in Iran. He received his Federal Shodan in 2003 and his International Shodan in 2008. Aikido opened new horizons in his mind and in his personal life. In late 2008 he moved to Perth, Western Australia, and continued practicing Aikido under the direction of Hugh Derham Sensei. Alireza had a short visit to Toronto Aikikai in summer 2012 where he met Robert Zimmermann Shihan and enjoyed his technical classes. He moved permanently to Canada in late 2013 and has been studying and training with Zimmermann Shihan at Toronto Aikikai since. Alireza believes Aikido has been very influential in all facets of his life and is one of the major factors that have shaped him into the person he is today, and for that he is very grateful to all his instructors. He believes that having a valuable sword requires its owner to polish and sharpen it regularly, and the same applies to one's Aikido skills, which require that one be dedicated, tolerant and constantly practicing and improving on a regular basis. He is currently ranked Sandan in Aikido
Basia Halliop, 2nd dan in Aikido
Basia has been practicing Aikido since 2004. "I first tried it when I found myself one summer with no job and a lot of stress from an intense semester at university. I practiced all summer at Aikido de la Montagne in Montreal, and when it came time to start the next semester I loved it too much to stop, so I found a way to work it into my schedule. The next year I moved to Toronto for graduate school, found Toronto Aikikai, and have been practicing under Robert Zimmermann Sensei ever since. Learning as much as I can, and understanding how people and animals of all kinds learn have always been two major interests of mine. In Aikido I'm drawn to so many things. For example, the beautiful use of classical physics -- of balance, momentum, leverage, timing and inertia, which make techniques look so effortless, although they're quite hard to learn. Also the fact that there are endless opportunities to keep learning and developing one's skills, and that there is a wonderful balance of learning at one's own pace and having the support of a community of skilled and energetic friends in which to do so. And best of all, who can resist pinning someone to the ground, tossing them across a room, or turning around and becoming airborne yourself?" Basia has a PhD in Electrical Engineering in the field of photo-voltaics, a.k.a. solar electricity.
Ezzard Neri, 2nd dan in Aikido
"I began training in the Martial Arts at the age of 21 at a local martial arts school that most of my family members had attended. I immersed myself in the practice of the Filipino indigenous combat weapon and unarmed hand-to-hand methods of '"arnis or kali" to quickly instill a vigorous form of physical and mental discipline. Soon after, in 1993, I joined the Canadian Army Reserve as an artillery-soldier to further my challenges and undertakings, and so began my search for a tough martial discipline and a self-defense curriculum with which I craved to train earnestly alongside soldiering. Through my arnis/kali teacher, I was exposed to his Shotokan Karate and Kobudo backgrounds for several years. This helped me experience several methods of fighting and self-defense and expanded my understanding of how to train physically, spiritually and purposefully. I also studied several forms of traditional Japanese Budo such as Bujinkan Ninpo-Taijutsu, Judo and Goshin Kai Jujutsu in which I achieved the rank of Shodan after 5 years of practice. In spite of my extensive experience, I was not satisfied with my training - I felt something was still missing. It was in this frame of mind that I heard one my fellow students from the arnis/kali school mention he also practiced Aikido, and I decided to look into what that was all about. After visiting several schools I began training at one dojo in 1999, but a year later decided to attend Toronto Aikikai for a different disciplined training regime and the style of Robert Zimmermann Shihan. At Toronto Aikikai I have made Aikido my core training in Japanese Budo, and in 2003 I also started practicing Iaido." Ezzard currently holds the rank of Nidan in Aikido.
Otto Lam, 1st dan in Aikido, 1st dan in Iaido
Otto holds the rank of Shodan (1st degree black belt) in both Aikido and Iaido. He began practicing these arts at Toronto Aikikai under the guidance of Sensei Robert Zimmermann in 2001 Soon after staring to practice he moved to the building that houses the dojo and dedicated himself to near daily training for 5 years. Those years of training formed a strong foundation of the basic fundamentals of Aikido and Iaido, particularly in the style and lineage of Mitsunari Kanai Sensei. In 2006 Otto moved to Japan to diversify his training and to pursue the roots of Aikido, something that resulted in mixed and unexpected results. On the one hand the intensity and frequency of training he was used to diminished somewhat, while on the other learning Japanese opened the door to the traditional arts of Shinkage ryu Kenjutsu (ancient swordsmanship) and Kendo (modern sword based sport). Constant training in Aikido and related sword arts became the new regime and with it followed an immersion in Japanese lifestyle, culture and tradition. The end result was a rich experience and good understanding of the roots of Aikido tradition, its modern techniques, and theory, including ancient practices such as mountain pilgrimages, and various rituals rarely seen today. "What makes Japanese sword and body arts so fascinating is that they connect and pervade modern Japanese society even as most modern Japanese remain ignorant of these roots. This way of thinking and behaving forms much of what foreigners consider to be the best in what Japanese culture is known to be and remains more relevant than ever for leading a life of peace and harmony in this day in age." In 2014 Otto earned the grade of Shodan in Aikido from Yonezawa instructor Kanda Sensei in the Yamagata prefecture regional style and lineage of Rinjiro Shirata Sensei (also a direct student of the founder.). After surviving the great northeastern earthquake/ tsunami/ nuclear accident, Otto returned to his home dojo in 2015. "Among other things, what we realize when we engage in the practice of Aikido and Japanese sword arts is that the more we know, the more we don't know. It is no less than a life long commitment and adventure and has brought me around the world and into situations beyond imagination."
Yaleh Paxton-Harding, 1st kyu in Aikido,
The son of two artists, I'm a professional artist myself, producing fine art as well as working in the field of animation as an art director. Although I've lived in Halifax and Amsterdam, I primarily grew up in Toronto where I studied Judo and Hapkido when young. Around the year 2000, after a long absence from any practice, I began thinking again that I would like to resume some sort of martial art. I wasn't sure which but then a long-time friend, a student and instructor at Toronto Aikikai, introduced me to his teacher, Robert Zimmermann. I realized immediately that I could train in this form, sometimes described as 'Zen in motion', for the rest of my life. What's most appealing are the nuanced adjustments, based on battlefield techniques, which have morphed into non-destructive defense. It's not a 'hard' form but that being said, is still a serious workout for mind and body. Sensei Robert Zimmermann is one of the highest calibre figures in the Aikido world and I'm fortunate to have him as a teacher. Under him, I've been working towards achieving Shodan (first degree black belt). The journey has been long but I know that while goals are important, paths to them are more so. Once I reach Shodan, it will be with humility for I will still be a beginner. In my daily life, too, I believe that Aikido helps me to react to challenges and stresses with creativity instead of destruction.
Giovanna Fontoura, 2nd kyu in Aikido, 2nd kyu in Iaido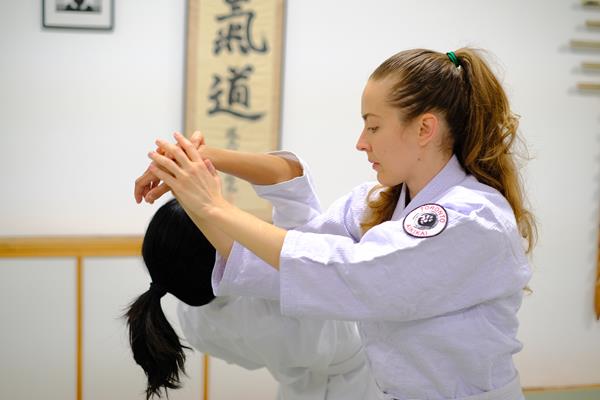 I have always enjoyed experimenting with different forms of physical activities from an early age. In addition to my parents' encouragement with dancing and other sports, my brother who is a BJJ's fighter served as inspiration to pursue martial arts. I stepped onto the mat for the first time in 2009 and somehow aikido became a passion and soon enough it became part of my routine giving me amazing friends on the way. I feel thankful for having great tatami friends who are always willing to share their knowledge and experiences. Back in 2012 I moved to Canada and life caught on making me spend some time on and off the dojo until I was able to pick it back up in 2017 at Shugyo dojo. Around the same time I started dedicating part of my time to promote Aikido worldwide through social media. I joined Toronto Aikikai in 2019 and my interest for Iaido came along a year later during the pandemic which brought a whole new perspective into my martial art practice. I have found aikido practice to be very special to me over the years. It has become a way to connect and communicate with others through movement. It has sharpened my perception, helped to express myself and to explore new possibilities. Aikido is where I challenge my limits to become a better version of myself and find harmony. The mat is a place where I see unique learnings that I can transcend and incorporate into my daily life.

.
© Toronto Aikikai - 58 Ritchie Avenue, Toronto, ON, M6R 2J9, (416) 531-8273, info@torontoaikikai.com